Model 2000PMB-2 Age Verifier
GENERAL: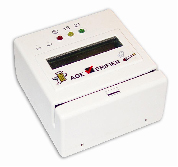 Age Verifier System for the retailer of tobacco, alcohol and other age-restricted products. Its purpose is to provide instant data to allow determination of age and fraudulent and/or expired driver's licenses and ID cards. The Model 2000PMB-2 Age Verifier accepts driver's licenses from over 25 states and Canadian provinces that contain a magnetic stripe. It also accepts Canadian Health Cards, as well as the INS (Immigration and Naturalization Service) card. In addition, an external handheld or mounted scanner for hands-free operation may be attached to the Age Verifier I/O Serial port.
We offer Portable Models (2000PMB-3, 2000PMB-4) that read magnetic stripe and the information encoded in the high density PDF-417 bar code used on over 30 states' driver's licenses. We also offer PC-Based Models for Age Verification & POS.
Although the primary use of the Age Verifier is in the retail POS (Point of Sale) market, it can be used for security checking and driver's licenses validation applications. Fraudulent licenses and ID cards can be determined by comparing the displayed information to the data printed on the face of the card and by data format verification.
The 2000PMB-2 Age Verifier stores up to 500,000 bytes of information that can be uploaded to a host computer. The stored records can also be printed out using a stand-alone line printer such as our Model TSP600. Our AV Application program options allow printing only the related transaction data to be stored (for POS paper trail) or allow the capture of the complete license data to be stored in a PC for other uses.
AGE VERIFIER DESCRIPTION:

Portable, handheld/countertop readers that read driver's licenses and ID cards.
Contains a real-time clock containing: Year, Month, Day, Hour and Minute.
Controls a backlit display, and green (over 21), yellow (18-20), and red (under 18) LEDs to indicate the cardholder's age.
Operates as a stand-alone portable reader that utilizes a long-lasting nickel-metal hydride battery for functional application requirements.
Contains a permanently installed high capacity lithium ion battery, making data and time independent of the main power sources, and powers the reader clock.
A 5-volt DC power supply is provided with the reader to recharge the batteries and ensure years of useful life.
Includes Serial Upload Cable.
Contains a 1-line, 16-character long, backlit LCD (Liquid Crystal Display) that shows: Age, Current Date and Time, and the word 'Expired' if the license or ID is, and other information, depending upon the reader status.
An ON/OFF power switch.
A functional camera scan trigger button on Model 2000PMB-3 only, for it's internal PDF-417 Barcode Imager.
Offers approximately 500,000 bytes of storage capacity to store over 2,500 records (driver's licenses/IDs) processed.
AGE VERIFIER FUNCTION:

Reads the entire record encoded and stores all required fields in flash memory.
Birth Date and Expiration Date encoded on a driver's license/ID card are compared to the real-time clock settings.
The display, during the idle mode, shows the current Date and Time.
After a license has been read, the device backlights a display of the age and date of birth, along with the appropriate LED illumination indicating the cardholder's age. These LEDs are ideal in a dimly lit or dark environment.
For an expired driver's licenses the reader will, momentarily, backlight and display the word 'EXPIRED' with all LEDs illuminated, followed by a backlit display of the birth date and illumination of the appropriate LED. In the event a driver's licenses cannot be successfully read, the display may, under certain conditions, show the word 'ERROR'. If a magnetic stripe license is not encoded, nothing will appear. Card errors occur due to defective or "dirty" cards, invalid cards, or by the user not swiping a magnetic stripe encoded license properly. Also, in the case of bar code encoded licenses, not scanning from the proper distance or improper movement of the scanning device or the license itself could prevent a successful scan. Regular use of cleaning cards can help keep the magnetic stripe read head operating at optimum performance.
Ban undesirables. 'BANNED' appears on LCD when read. IDs can be un-banned. Stores 500 banned IDs in memory.
Print Features: A) Log on Receipt Printer – B) Print wristbands if person is not banned, and is 18-21+ (configurable).
APPLICATION SOFTWARE PROVIDED:

All Age Verifier software controlling the device is stored in the unit, ready for operational use. The only function required on the part of the user is to initialize the current date and time through a very simple process utilizing a method similar to setting the date and time on a digital watch. There are other configuration options you may use to control other settings, if desired. These functions are described in our manual, which is on the CD-ROM also.
Our Windows® - Based AV.exe Software we provide allows the user to upload the records stored in the Age Verifier into a PC CSV.txt file or a Microsoft® Excel file. An upload interface cable is also provided to attach the Age Verifier to a serial port on the PC. A simple keyboard command is entered into the PC to initiate the upload function.
The individual records are initially stored into a Database.txt File. Whenever desired, these records may be transferred to a LOG File that will contain only selected fields to use as a permanent record or used to create a printed paper trail. The Log will contain records of EVERY card read, including records of the same individual who may have made more than one visit to the user's facility. As an option, the Database.txt File records can be transferred to a DATA File that will contain ALL fields to use for the creation of statistical reports. The records can also be used to create a Formatted Database File for any number of other uses. Both the LOG File and the DATA File are placed into an Excel File format. They can be converted to a CSV (Comma Separated Value) File if you prefer working with this type of file in lieu of the Excel Files. If desired, BOTH the LOG and DATA files can be created from the Database.txt File.
The program will check the records being placed in the DATA File to ensure there are no duplicates.
The records will also contain the date and time the card was read.
In the event it becomes necessary to modify the Age Verifier Program, the new version can be downloaded, via the Internet, and then uploaded to the Age Verifier. In the event it becomes necessary to modify the PC Program, the new version can be downloaded via the internet to the user's PC. The new version will not affect any existing Age Verifier files that have been created and stored in the PC.c
OPTIONS:

An optional palm-strap is available for use in a portable environment.
For lower volume countertop use, the Model 2000PMB-2 Age Verifier can read bar code encoded driver's licenses using our optional 8210 CCD, DS6608 Hand-held Imager or the IT4700 Fixed-mount imager attached to the I/O Serial Port of the unit. The Barcode Imagers we offer provide an excellent first read rate. It is not recommended for portable operations. The handheld or fixed mount scanner can also be attached to our Models 2000PMB-3 and 2000PMB-4 IN ADDITION TO their built-in scanners. This allows two users to share the Age Verifier when it is "in the line of sight" of both users.
A TSP613D Thermal Receipt Printer can attach to the AV's I/O port to print a 'paper trail (log)' of records stored.
Barcode and/or RFID Wristband Printers: A) E-4203U Desktop Barcode Wristband Printer w/ Optional Battery Pack for Stand-Alone Operation, or B) Heavy-Duty DMX I-4210R RFID Ready Barcode Printer for high-volume applications. Neither requires a PC to print wristbands.
NOTE:
Regular use of our 'MSRCLEAN — Magstripe Head Cleaning Cards' (MSR Clean Machine) can help keep the read heads operating at optimum performance. Pre-saturated cleaning cards have a two year shelf life. They are offered in quantities of 10, 20 or in 50 count, shrink-wrapped boxes. Use them every at least every two weeks or whenever necessary.
PHYSICAL SPECIFICATIONS:

Size = 3 7//8" long, 3 3/4'" wide, 2 1/8" high.
Weight = Approximately 13 ounces.
FCC Approved.
Made in U.S.A.
| | | |
| --- | --- | --- |
| MODEL 2000PM- 2 Age Verifier | $465 | |
Other Age Verifier Models - ID Checkers

or call (541) 601-8282 for more information on the 2000PM-2 Age Verifier