!META NAME="KEYWORDS" CONTENT="pocket reader,EMV Reader,Cards, Card Reader, Keyboard 101, Reader, Magnet Card, Magnetic Reader, Pos Wedge, Card Reader Magnetic Heads, Mag Stripe Writer, credit card reader, mag stripe reader, access control, bar code reader">
Voyager 1602g Area-Imaging Pocket Scanner
Voyager 1602g




Features:

* Full-Size Scanning Performance: Incorporates Honeywell's high performance area-imaging engine for aggressive, omnidirecitonal 1D and 2D bar code scanning.

* Mobile Marketing Enabler: Capable of reading bar codes off smartphone screens—mobile coupons, digital wallets, and digital loyalty cards.

* Ergonomically Designed: Contoured and elegant design, over-sized scan button, and light weight make scanning fun and easy.

* Efficient Wireless Performance: Bluetooth wireless technology provides freedom of movement up to 100 meters (328 feet) from host device.

* User-Replaceable Battery: Features a battery rated for up to 2,250 scans over 12 hours, rechargeable over standard microUSB.
The affordable Voyager 1602g scanner packs high-performance area-imaging technology into an elegant and pocketable form factor—making it the perfect scanning companion to tablet-based retail point-of-sale and field service applications. Despite its small size, this pocket scanner incorporates the same high performance area-imaging engine found in our full-size handheld scanners--so you can scan virtually all 1D and 2D barcodes with ease.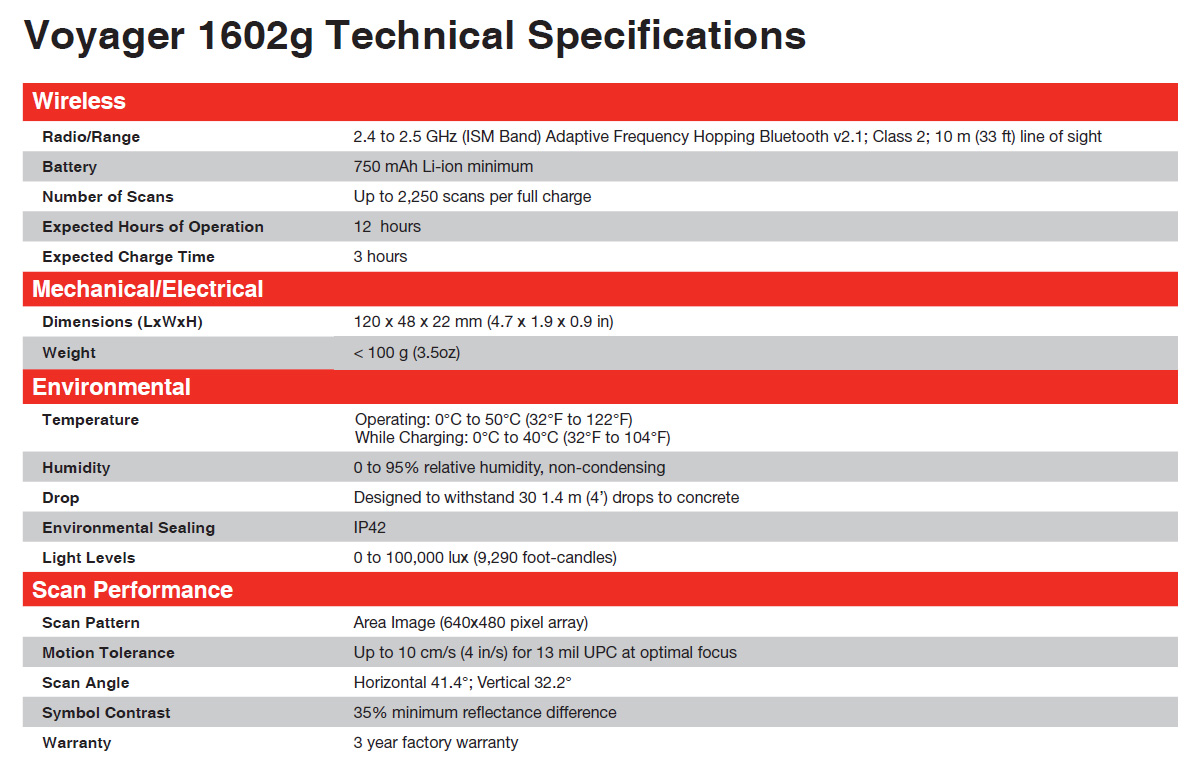 | | |
| --- | --- |
| Voyager 1602g Pocket Scanner | |

Return to POS Peripherals main page