2000B/I PDF-417 Driver's License / ID Age Verifier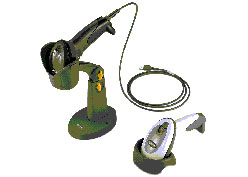 The 2000B/I Age Verifier consists of the DS6608-SR20007 (Black)Digital Scanner and the Windows®-Based PCAV.exe - Age Verification Software. This system provides a versatile means of checking IDs before selling age-restricted products, and reading Point of Sale - UPC barcodes as well as other 1D & 2D barcodes, with the speed and cost of a linear scanner.



Current and future retail and commercial applications will involve much more than linear bar codes. EAN-UCC composite and RSS bar codes are beginning to appear in retail markets, while PDF417 bar codes are used for age verification in age-restricted item sales & inventory applications. The omni-directional reading capability of the 2000B/I allows fast reading of all of these bar codes. Simply point and squeeze scanner trigger. No need to move scanner or wait for raster beam.

The 2000B/I System consists of 2 main elements:
Easy to use PCAV Windows®-Based Software that accepts dataContained on Driver's Licenses and ID cards that follow AAMVA published Standards and many other States's Driver's Licenses that do not follow the Standards. This data is then processed to perform a number of actions discussed in detail in our User's Guide.
The SYM-DS6608 Digital Scanner with RS232 DB9F Sub cable, and external power supply. The DS6608 captures the PDF-417 2D bar code data and transmits it to the PC. Our Age Verification Software will perform its function, when a driver's license or ID is read, or transmit standard barcode data to your other applications. This Device is discussed in our PC-Based Driver's License/ID Card Reader System User's Guide.
PC PROGRAM FUNCTION:
The PC AV Age Verification Software Program is automatically loaded when the PC is powered ON. It remains resident and is activated when it receives data from the scanner. If the data is not recognized as a driver's license, it is passed on to the PCs currently running application as though it had been entered via the keyboard. When the program detects the data representing a PDF-417 encoded driver's license, it performs the three steps listed below. The data received from the scanner is transmitted to the PCs serial port, or, if preferred, to a USB port.
It reads the Birth Date and Expiration Date encoded on a driver's license and compares the data to the PC clock settings.
It controls the display to indicate the Age and License validity.
A record of Driver's Licenses or IDs read can be created and saved in a database.txt file or Excel file. The first file that can be created is an edited record file. The second captures a complete record of all card read, including duplicate records. The third is a CSV File that can be used for multiple purposes. These files and their use are covered in complete detail in the User's Guide.
2000B/I System Includes:
SYM-DS6608-SR20001 Digital Scanner: Multi, Far Focus, CR White, or -
SYM-DS6608-SR20007 Digital Scanner: Multi, Far Focus, Black
SYM-25-32465-20 / RS232 (Standard Cable)(DB9 Female, TxD on 2, 6 ft. Straight)
SYM-50-14000-008 / 110 V Power Supply
SYM-60 Months / 60 Months Standard Warranty
PCAV.exe Windows® - Based PC Software

SYM-DS6608 Accessories:
2000B/I-S-X* = DS6608 Intellistand Hands-Free Stand Note: *X = B - Black, or *X = W - White
26886 / Port Authority USB-Serial DB9 Adapter.
DS6600 Specification Highlights:
Physical Characteristics:
Dimensions: 6.55 in. H x 2.82 in. W x 4.72 in. D / 16.64 cm H x 7.16 cm W x 11.99 cm D
Weight (without cable): 6.04 oz./181.4 gm
Input Voltage: 5 volts +/- 10% - Operating Current: 250mA (average)
Performance Characteristics: Light Source - 650 nm visible laser diode
Decoding Capability: 1D Codes: UPC.EAN, UPC.EAN with Supplemental - UCC.EAN 128, JAN 8 & 13, Code 39, Code 39 Full ASCII, Code 39 Trioptic, Code 128, Code 128 Full ASCII, Codabar (NW7), Interleaved 2 of 5, Discrete 2 of 5,Code 93, MSI, Code 11, Code 32, Bookland EAN, IATA, UCC/EAN RSS and RSS Variants. 2D Codes: PDF417, microPDF417, MaxiCode, DataMatrix (ECC 2000), Composite Codes, QR Code Postal Codes: U.S. Postnet, U.S. Planet, U.K. Postal, Japan Postal, Australian Postal, Dutch Postal
User Environment:

Operating Temperature: 32° - 122° F/0° - 50° C
Storage Temperature: -40° - 158° F/-40° - 70° C

Humidity
5% to 95% relative humidity, non-condensing

Drop Specifications: Multiple 6-foot (1.8 m) drops to concrete

Ambient Light Immunity: Immune to direct exposure of normal office and factory lighting conditions, as well as direct exposure to sunlight.
Sunlight: 10,000 ft. candles/107,644 LUX

Electrostatic Discharge: Conforms to 15 kV air discharge and 8 kV of contact discharge

Accessories:
2000B/I-S-X (X=COLOR) Hands-Free Intellistand: 20-66483-01 - Cash Register White or 20-66483-02, Twilight Black.
Grey Desk Top Stand: 20-67176-01 (Grey only)

Grey Wall Mount Bracket: 11-66553-06 (Grey only)

Regulatory Information:

Electrical Safety:
Certified to UL1950, CSA C22.2 No. 950, EN60950/IEC950

Laser Safety
CDRH Class II, IEC Class 2 EMI/RFI

FCC Part 15 Class B, ICES-003 Class B, European Union EMC Directive, Australian SMA

Roll (Tilt): Controlled by rotating the wrist clockwise or counterclockwise
Pitch: Controlled by dropping or raising the wrist
Skew (Yaw): Controlled by rotating the wrist from left to right or vice versa
| | | |
| --- | --- | --- |
| 2000B/I PDF-417 Driver's License / ID Age Verifier | $495 | |
| | | |
| --- | --- | --- |
| 2000B/I PDF-417 Driver's License / ID Age Verifier Combo with both Bar Code and Magstripe (includes Model 2000M3/I Magnetic Stripe Reader) | $689 | |


Other Age Verifier Models - ID Checkers

or call (541) 601-8282 for more information on the 2000B/I PDF-417 Driver's License / ID Age Verifier