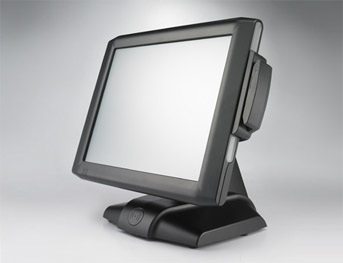 Gladius Smart is a fan-less, aluminum
POS terminal with Intel D525 1.8GHz
Dual-Cores processor. With a thoughtful
modularized integration concept, Gladius
Smart can be transformed into various
kinds of POS operations by detaching the
all-in-one display and combining it with
various kits such as a wall-mount version
with integrated scanner or a countertop
version with integrated printer.
Features

Flexible I/O Connectivity for Various Peripherals
With two I/O panels (1st Standard, 2nd Optional),there are at least 5 options of
Interchangeable extended I/O panels that can beselected and replaced by system integrators.

Hidden Power Adapter in Stand for Space Saving
The aluminum stand can not only store the poweadaptor under its base, but also provides cable management for connected peripherals.

Many Modularized Integrations
Offerings include various physical and functional integrations such as a wall-mount version integrawith a scanner or a countertop version integrateda printer.

One-step Quick HDD Replacement Mechanism
HDD can be directly accessed and replaced withouremoving the cabling, reducing the maintenance and costs.

Built-in Customer Display for Cost Saving
Customer display is integrated on the console eliminating the need to purchase a pole display.
AL-7385 POS Touch Screen Terminal
* 15" LCD ELO 5-WIRE TOUCHSCREEN
* INTEL ATOM D525 DUAL CORE 1.8GHZ
* DDR3 2GB RAM
* 320GB HDD
* 3-TRACK MAGSTRIPE READER
* WINDOWS POS READY 2009
Aldelo Single User Software/Hardware Bundle $2,497
Includes:

Aldelo Single Station Pro
AL-7583 All-in-One Terminal
Cash Drawer
Epson Thermal Receipt Printer
Star Kitchen Impact Printer


or call (541) 601-8282 for more information on the 15 inch Touch Screen POS Terminal.

Other Touch Screen Monitor & POS Terminal Models