Magnetic Card Writer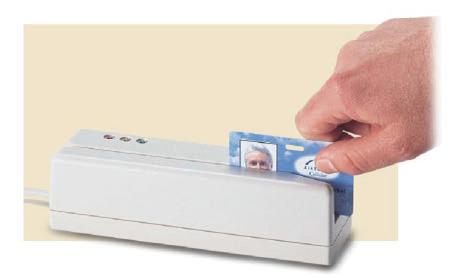 Use the MCE Magnetic Stripe Encoder to encode:
Visitor and employee badges

Identification and access control cards

Student identification cards

Gasboy Cards *
The MCE Magnetic Card Writer series is available in two models for tracks 1, 2, and 3. This line of fully featured units have USB output and include complete operating software for reading, writing and verification testing of magnetic stripe data in standard ISO/ANSI or user defined formats. The units have three status indicating LEDs for the operator's ease of use. Our reader/writers use a two head system for writing and verifying data on a single pass. The stainless steel card guide and long life heads offer extended performance. The long card track allows for better card registration, minimizing alignment errors and acceleration problems for consistent and reliable card writing and reading. The MCE magnetic card writer series includes software and programmer's manual.
MCE MAGNETIC CARD WRITER & HI/CO CARDS

MCE Reader Writer Triple Track (tracks I, II & III) High/Low Coercivity MSR Encoder with USB Interface & Encoding Software

$425.00

500 Pack of Blank Hi/Co Cards

$97.00
* Please Note: Some newer GasBoy installations may require the customer to also install a PIN Calculator that will need to be aquired from GasBoy.

Return to POS Peripherals main page

Other Magstripe Encoder models


Return to B & C Data Systems

Please email us or call (541) 601-8282 for more info on the MCE Magnetic Stripe Encoder or to order by phone.